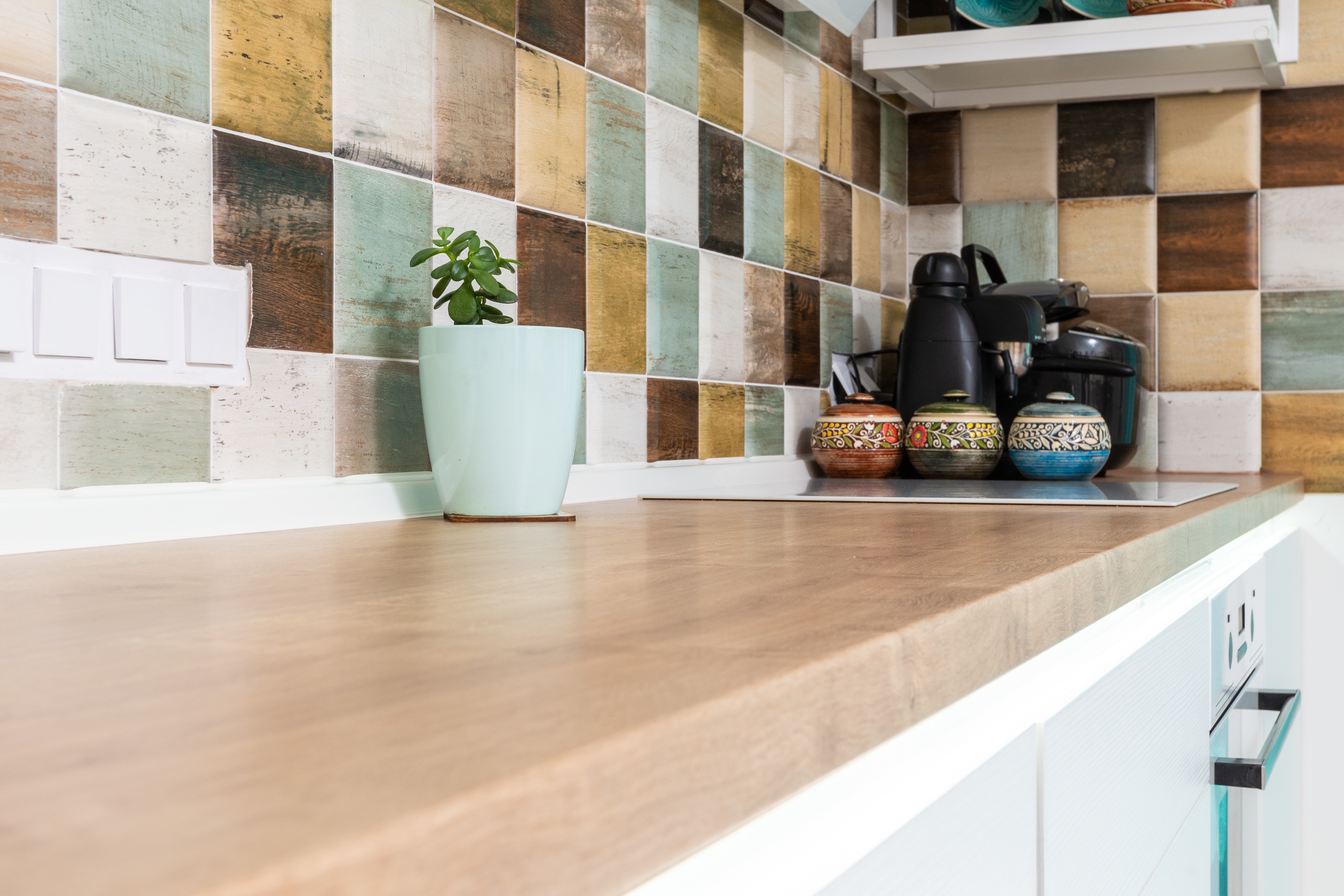 If your kitchen is in need of an upgrade, it may be time for a DIY project! These can be relatively affordable and easy to follow with professional instructions. Here are some budget and beginner friendly DIY kitchen projects to elevate your cooking space!
Add a New Floating Shelf
Installing floating shelves is a classic way to elevate your kitchen and a relatively easy DIY project. Before installing floating shelves, find out if your wall is made out of drywall or plaster. Begin that installation process by measuring and marking the spaces on the wall where you'd to place the shelves. Use a hand drill to insert pilot holes into the wall for your anchors and align your bracket. Use a screwdriver to attach the bracket to the anchors and slide your shelf onto it.
Paint Your Kitchen Backsplash
If your tile backsplash is in well maintained condition, a simple paint job may be enough to update your kitchen. Before painting your kitchen backsplash, it's important to clean it and make some minor repairs with a putty knife and silicone sealant. Before moving on, you'll need to sand the tile surface area, clean off any excess dust, and apply primer paint. Finally, apply epoxy paint on your kitchen backsplash, a tile-specific paint formula.
Repair Your Kitchen Cabinets
Your kitchen cabinets experience a lot of wear and tear with the passing of time. You may choose to repair them by taking a closer look at your cabinet doors. Sometimes, a loose hinge or damaged screw holes can contribute to cabinet disrepair. You may also repair basic scratches, holes, and scrapes. If your cabinets are made of wood, you may notice some peeling after prolonged exposure to moisture. In this case, you might need to re-laminate your cabinets.
Replace Your Kitchen Faucet
At first glance, replacing a kitchen faucet may seem like a job restricted to a plumber. However, with proper tools and preparation, it's fairly easy to accomplish by yourself. Before beginning the project, make sure to select the correct replacement faucet and turn off water valves. Once you remove the old faucet, drill any additional necessary holes before installing the deck plate. Insert the new faucet through the hole and connect it to the water supply.
Install Under Cabinet Lighting
Installing under cabinet lighting may take a bit longer and require you to follow more detailed instructions. Even so, extra lighting in your kitchen provides a contemporary design and makes it easier to see while you're cooking. Generally speaking, the entire project is likely to take about two days to complete: one to add a new outlet and power supply and the other to run wiring for the lights.
The first thing you'll need to do is plan ahead and understand the layout of your kitchen area. Make sure you have a good understanding of how all the LED components connect with one another. Drill any necessary holes for easy access before cutting and connecting LED light strips. Click here for more in depth instructions detailing under cabinet lighting installation.
Add Vinyl Floor Tiles
If you want to update your kitchen floors, applying peel and stick vinyl tiles easily stylize your space. It's also very budget friendly, about the amount of an average paint job. Instead of a complete flooring restoration project, stick and peel floor tiles elevate your kitchen without expensive installation prices.
Before applying the vinyl tiles, thoroughly vacuum and mop your kitchen floor. Acquire the necessary materials for the project and start measuring where your tiles will go. Once you're ready, place the tiles on your floor and cut any of them being obstructed by surrounding objects. Place them slightly underneath appliances so that they fill up the entire area.
Apply Silicone Sealant
Silicone sealant is a fantastic home improvement tool, especially for kitchens! It's particularly great for sinks and countertops due to its water-resistant nature. This can coincide with faucet replacement projects since caulk is required to fill in separations between sinks and countertops.
Silicone sealant is also mold and heat resistant, capable of withstanding high temperatures or moisture buildup. Granted, it's important to purchase silicone sealants for kitchens. For example, food-grade silicone will guarantee that you won't ingest toxic chemicals after adhesive application.
Silicone sealant is the best choice for basic kitchen repairs due to its waterproof, heat resistant, and mold repellent properties. If you're about to start a DIY kitchen project, Silicone Depot has the tools you need to successfully complete your repairs. We always provide the best silicone sealants and caulks at wholesale prices. Check out our high-quality silicone selections today!